The complete solution to write a brilliant best man speech
WRITE YOUR OWN UNIQUE BEST MAN SPEECH. THE COMPLETE SOLUTION TO YOUR SPEECH CREATION. CREATE YOUR OWN UNIQUE BEST MAN SPEECH IN 60 MINUTES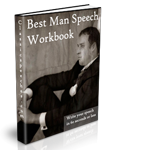 Do you want to create your own unique best man speech, but just need some help to pull your ideas together in a logical order with the polish of a toastmaster?
Do you want to entertain the audience without running the risk of offending anyone?
Do you want to finish writing your speech in the next 60 minutes – complete with at least 2 or 3 versions ready to practice?
If you are still reading this, then the Best Man Speech Workbook is designed just for you!
Take the stress of writing your own unique speech away and let the workbook guide you through each component of the best man speech.  Complete with ideas and examples you choose the parts you wish to include. Instantly download the entire Best Man Speech Workbook now and have your speech finished in the next 60 minutes.
The Complete Solution to Write Your Own Unique Best Man Speech in Less Than 60 Minutes