The complete solution to writing and delivering a best man speech to remember
WRITE YOUR OWN UNIQUE BEST MAN SPEECH AND LEARN HOW TO DELIVER IT MASTERFULLY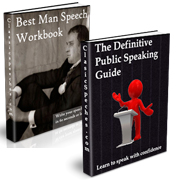 Do you want to create your own unique best man speech, but just need some help to pull your ideas together in a logical order with the polish of a toastmaster?
Do you want to entertain the audience without running the risk of offending anyone?
Do you want to finish writing your speech in the next 60 minutes – complete with at least 2 or 3 versions ready to practice?
Do you want to overcome your fear of public speaking?
Do you want to master the three most important non-verbal communication techniques?
Do you have a great speech and want to deliver it masterfully?
Take the stress away and get instant access to the only speaking and speech writing resources you will ever need.
The Complete Solution to Write Your Own Unique Best Man Speech in Less Than 60 Minutes