Deliver Your Speech Perfectly
IT'S NOT WHAT YOU SAY, IT IS HOW YOU SAY IT THAT THE AUDIENCE WILL REMEMBER.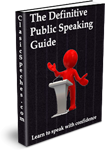 Do you want to overcome your fear of public speaking?
Do you want to master the three most important non-verbal communication techniques?
Do you have a great speech and want to deliver it masterfully?
You need the Definitive Public Speaking Guide
It is widely known that over half of all communication is non-verbal. It is often said colloquially that it's not what you say but how you say it that has the greatest ever lasting impact on people.
When you speak in public, your listeners will judge you and your message more based on what they actually see than what they've heard. That's why it is important that to practice your non verbal communication just as much as your spoken words. It will ultimately allow you to get your message across effectively to your audience.