A Kiwi bride had a four  All Black "ex-boyfriends" appear at her wedding, including  Jonah Lomu, Doug Howlett, Jerry Colins and Sonny Bill Williams.
This video was put together by best man Mike Benson who knew the bride and groom loved rugby and thought he would surprise them on their wedding day.  It is a brilliant idea for a best man speech and fantastic that the four all blacks played along so well. Especially Sonny Bill with his back story too.
Best Man – Mike Benson says "He's a massive rugby fan, and she and all her family are massive All Blacks fans, obviously. So I thought I'd try to get something together on a video. I spent about six months chasing people through friends of friends."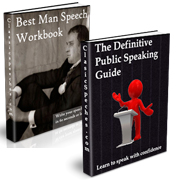 WRITE YOUR OWN UNIQUE BEST MAN SPEECH AND LEARN HOW TO DELIVER IT MASTERFULLY
Do you want to create your own unique best man speech and need some help to pull your ideas together in a logical speech with the polish of a toastmaster? Write a masterful best man speech that will entertain the audience without running the risk of offending anyone in less than 60 minutes.