Bride and groom, Distinguished guests, Ladies and Gentlemen,
The Venue – Parlor point, for Curtis and Beatrice today.
Curtis of course out of Berril and by Mathew Argile.
Well bred, good friend, odds on meeting someone like him one hundred to one.
At school on the track he was hard and fast.  The filies of course very fond of curtuis, anxious for that chance in that saddle.
Pardon me Beatrice. Yes very popular man.
Then of course he went away now. Away down to Chch.  It was a lonely time for me you know, it's as if a party of guys and a mate leaves.
But somehow i got through it.  Looking back now my toll bill was bloody huge with the constant riniging to find out how Curtis was getting on down at addington.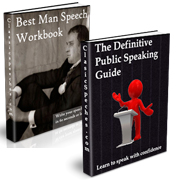 WRITE YOUR OWN UNIQUE BEST MAN SPEECH AND LEARN HOW TO DELIVER IT MASTERFULLY
Do you want to create your own unique best man speech and need some help to pull your ideas together in a logical speech with the polish of a toastmaster? Write a masterful best man speech that will entertain the audience without running the risk of offending anyone in less than 60 minutes.
And i'm just bloody happy to be here today to celebrate with you all.
On a personal note if you like I've always been a length and a half behind balancing delicately on the rails.
A fear of failure or success either way it doesn't make you feel good on the inside.
So a glance around and there on the outside always was Curtis, Curtis my mate look we'd laugh and play footy, and laugh and get McDonalds to go.
And then along comes Beatrice who destoryed the whole foundations of my relationship with Curtis.
Monopolising and monopolising his tone to the point of insanity oh goodness gracious there could have been a nasty fall there i would think to myself.
But i never acted on those impulses. She could have been in hospital by now. And so consequently I was left with the rest of the pack as beatrice and Curtis picked up the pace.
I'd ask them to dinner parties but they were always a no show. A preach only, two hundred meters from their home now and New Zealand post.
All they have to do is walk from their home straight they sent me a birthday card once but there was nothing in it. Look I'm just about at the finish line of me speech,
not but all now it's going to be a tight finish I promise Curtis we can still be friends mate but oh Beatrice wins you…
Beatrice buy a length and a half of rope and hang yourself with it you monopolising tart. You're the winner today. It will be a photo finish for you and Curtis.
Curtis you mean the world to me mate. Beatrice, you always thought of two dollars even or a dollar sixty.  Trifector with a disease mate.