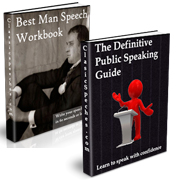 WRITE YOUR OWN UNIQUE BEST MAN SPEECH AND LEARN HOW TO DELIVER IT MASTERFULLY
Do you want to create your own unique best man speech and need some help to pull your ideas together in a logical speech with the polish of a toastmaster? Write a masterful best man speech that will entertain the audience without running the risk of offending anyone in less than 60 minutes.
…Fornication,… Ladies and Gentleman…
I'm terribly sorry. For an occasion like this, Ladies and Gentlemen, I think an introduction is worthwhile… for those who don't know me, my name is Brent can I buy you a drink.‐ I hope as many of you will come and say hello at the bar later – but I do insist you use my full name.
Now, I asked around for an idea of how long my speech should last and the general response was about as long as it takes the Groom to make love. So with that in mind, thank you, you have been a wonderful audience. (sit down to applause before you get back up)
Before we carry on into the speech I think there is something you should all know about John. As you all know he is in the Navy, but what you don't know is that Jane makes Jane wear this every time he goes over sea's. (Produce the chastity boxers) Which Jane only has the key too? Now I have heard stories about the copies of the key. So I ask whoever has the keys to could please return them.
(This is the cue for all the women to bring their keys to the wedding party table. Try to get a couple of pregnant women in the group or maybe somebody's grandma and a guy.)
Firstly, I would like to congratulate Jane for being such a beautiful bride, thank the bridesmaids for performing their roles so well and continuing to look so good throughout the day and for the ushers for at least turning up sober.
I was both delighted and honoured when John asked me to be best man though I must confess to being a bit nervous as I stand here before you. However my dad once gave me a tip, he said son just imagine your entire audience is naked. [Scan the audience and grimace at a few people. Turn to Brides dad]
I have tried to take the responsibility of best man very seriously indeed. I would like to share with you some of my duties I have been involved with… My first duty was to ensure John made it to the church fit and proper, on time and sober. As you can see this was achieved. To make sure this was the case, John stayed with me last night and I can assure you John was in bed early and he slept like a baby. That is he wet the bed twice and woke every hour crying for his mummy.
Another of my duties was the potentially delicate duty of keeping John ex‐girlfriends out of the way today. Thankfully this has been very easy because there aren't that many frankly. And my last duty was to make sure the wedding goes smooth, this is why I have my pocket guide book to help me. [show book]
In my little pocket guide it mentioned three important parts of today's service
Aisle – the longest walk you will ever take
Altar – the place where two become one
Hymn – the celebration of marriage
I think Jane must have read my book because when she was walking up the aisle I'm sure I heard her whispering, Aisle, Altar, hymn. Aisle alter hymn. I think it is now time to give you all a run down on the chap who has tied the knot today.
For those who already do know him, well, you've got my sympathy. I've known John since ____________[when you became friends], we have been best friends though and though. He was like my family's 3rd son. He would stay overnight, play on the Nintendo, mom would cook us supper. Even my old brother made John feel part of the family after he was done beating me up he would also beat up John.
[little known story about the Groom]
But as life would have it, after high school was over, we grew apart and moved to different cities. So I decided to fly down a week early to get to know the new John and to have the Bachelor party, which under vice of our lawyer I am not a loud to speak about until the court case. But I'm glad to tell everyone that the donkey and duck are ok. While I was down I got a chance to speak to John boss. I asked his boss if would like to comment on John the employee. He was quick to tell me John is known as 'God' at work. Knowing John as I do, this surprised me until he explained the nickname arises because you
never see him he makes his own rules if he does any work, it's a bloody miracle. If there's anybody here this afternoon who feels slightly nervous and apprehensive, it's probably because you just got married to John.
Now I must say a few words about Jane. She is beautiful, intelligent and caring, and I think she's made a wonderful choice for her first husband. I have read some useful tips about marriage on the internet and I would like to share them.
Never go to bed on an argument…. Always stay up and argue.
Always remember the three little words…"You're right dear".
The best way to remember your anniversary is to forget it once.
It is important to get on with your mother in law. My friend hasn't spoken to his for two years. Not because he doesn't like her… he just doesn't like to interrupt.
You will be happy to know that we are coming to the end of our speech. I can tell that everybody is having a great time here today and this is mainly down to the weeks and months of planning by John and Jane. They have done an incredible job to make this such a special day and I would like to end this on a special note:
Webster's defines union as an agreement and conjunction of mind, spirit, will, and affections. When I think of John and Jane marriage, I think of a creation of harmony between their intelligent minds, their indelible spirits, 2 very stubborn people, and last but certainly not least their endless affections. I look forward to being a part of their lives and having them both as a part of my life for many years to come. On behalf of the entire wedding party I would like to thank you all for coming to share in this wonderful occasion. Also a very special thanks to all the parents, without you this could never have happened.
Finally a toast to the bride and groom, please will everyone raise their glasses:
May you live as long as you like and love as long as you live…