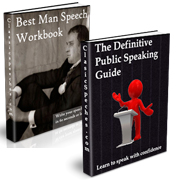 WRITE YOUR OWN UNIQUE BEST MAN SPEECH AND LEARN HOW TO DELIVER IT MASTERFULLY
Do you want to create your own unique best man speech and need some help to pull your ideas together in a logical speech with the polish of a toastmaster? Write a masterful best man speech that will entertain the audience without running the risk of offending anyone in less than 60 minutes.
After an introduction like that, I can hardly wait to hear myself speak. It's kind of a bugger because all of my stuff has been plagiarised. It reminds me of when JOHN and I were at school… He was always copying me. But it's kind of fortunate really, because a wise man once told me that a best mans speech should be about as long as the groom makes love. So I think I've already gone over time… thank you all very much… [then sit down for a few seconds while the laughter of your audience starts to dissipate, then stand up again]… (or look at your watch, and make a comment about the time, and site down).
(stand up again)
However, it seems I've been given about 5 minutes or so to talk, so I'll engage you all in a bit of pillow talk before you fall asleep. For those of you that don't know me my name is Brent and I'll be your best man for this evening. Allow me to begin by adding a few words of appreciation for the bridesmaids ____________________ [Bridesmaids name here] she does indeed look fantastic and is sure to be the object of much unwelcome attention this evening. I'd like to apologise in advance. And of course this leaves me to say that Jane looks absolutely incredible. And John, You're looking pretty handsome too… even though he's plainly copied my outfit tonight.
As I mentioned, it's a great honour to have the role of being the best man. But with this role comes the job of writing this bloody speech. And I wanted to make it as easy as possible, so where do you begin for ideas. And the obvious place seemed to be the internet. So with a multitude of resources at my fingertips I began searching. And after a couple of hours I came across some really good stuff… Then I realised I was supposed to be looking for a best mans speech. I did actually come across some really good pre‐prepared speeches, but sadly, none of them were about a couple called John and Jane.
As part of my research I discovered that according to tradition, I'm supposed to sing the grooms praises, and tell you about his many good points. Well, for those of you that know me, you know that I can't sing, and I'm not going to lie. So now I've started talking about the man himself I might as well carry on. My first encounters with John were __________________________ [PLACE OR ACTIVITY HERE]. And being the _________________________________ DESCRIBE YOUR RELATIONSHIP HERE, we (Got on well,(or) didn't get on very well.) In fact I recall at least a couple of __________________________TYPE IN CONFLICT HERE (eg. Fights, Competitions, Debates etc…) Which naturally I won. So we spent many years doing ________________________[PLACE OR ACTIVITY HERE] … together. It wasn't until high school that we became good mates.
Our high school years were great years, discovering beer, sports, and developing our tastes for girls. Unfortunately, that's all I can tell you about those years, as anything I tell you about John also incriminates me.
But John has a tremendous wealth of talent and natural abilities.
_____________________________________________________NATURAL ABILITIES OR TALENTS HERE… But his talents don't stop there… I for one am incredibly jealous about John's,_________________________________________________
obscure or hidden talent or ability here that audience might not be aware of? In fact, I have it on good authority that it was John obscure or hidden talent ability that might have finally won over Jane heart. But seriously I've never seen John so happy than since he's been with Jane. Certainly when they're together, and even when they're apart, it is obvious that they are truly in love with each other.
Anyway, I'm not going to keep you for too much longer, as I know we're all here for the unforgettable spectacle that is John dancing. (assuming there's going to be a first dance afterwards). But I do have a couple of messages… (read out emails or telegrams here)… If the groom is sporty, or belongs to a club then you can say the following……this came in from John club or team name here… dear John and Jane. We've been playing with John for a while now, and we've tried in him every position… and he's bloody useless… hopefully you have some better luck.
Then there have been a few more words of kind words and praise that have come from some people that are here sharing in your special day. So I wrote a few of them down. John here are a few of the words that have been used to describe you… "A great friend" that was my one. Thoughtful, caring, trusting and charismatic… all very kind words… _____________________________________, Some funny features or character about the groom In fact, I barely found a person that had something bad to say… Although I did find some… When I heard… "Belligerent, lazy, stubborn and obstinate… I thought, hang on, that's a bit rough… Maybe not entirely untrue but a bit unnecessary for my speech… But if his parents don't know him, then who does…
Joking aside… I'm really, really honoured to be here today as John best man. I regard both John and Jane. as the type of friends that will always be there for you whenever it's needed. And I for one regard their friendship very, very highly as I'm sure your all value their friendship too. A friends love says if you ever need something I'll be there. True love says You'll never need anything I'll be there. And that's what makes John and Jane such a great couple. They're truly in love and always there for each other.
John you're my oldest and dearest best friend, and it's been an honour to be your best man today and I'd like to thank you from the bottom of my heart for affording me the privilege. You're incredibly lucky, Jane. is a beautiful girl, with a heart of gold and deserves to have a good husband. Thank god you married her before she found one. My final duty has to be my favourite, I'd like to pose a toast to the newlyweds, so could you join me up standing … Ladies and gentlemen, it gives me immense pleasure to invite you to raise your glasses and toast to the newlyweds Mr & Mrs Smith. May your life be filled with many happy memories…
To Mr and Mrs Smith