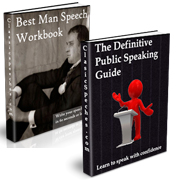 WRITE YOUR OWN UNIQUE BEST MAN SPEECH AND LEARN HOW TO DELIVER IT MASTERFULLY
Do you want to create your own unique best man speech and need some help to pull your ideas together in a logical speech with the polish of a toastmaster? Write a masterful best man speech that will entertain the audience without running the risk of offending anyone in less than 60 minutes.
Now before I tell you a few stories, I would like to say how much of an honour it is tobe provided the privilege of being Johns best man. In all honesty I have struggled somewhat in writing this speech as it has been very hard to think of stories that are appropriate for this forum.
BACKGROUND OF HOW WE MET;
John Diver ventured over from the mighty BOP when Graham was appointed as headmaster of Matamata College back in 1987, it would be fair to say that it was not an easy time for John, he experienced significant problems trying to fit in and for the 1st few wks would spend every spare moment hitting tennis balls back and forward to himself against a brick wall, this would have gone on for a lot longer than 2 wks but Alison got wind of the behaviour of "The lone Diver" and proceeded to write me a letter, in fact I kept a copy of it and thought this was an opportune moment to read you the letter which illustrates what a very supportive mother Alison has always been;
Dear Cameron,
Myself along with my husband Graham and 2 children John and Fraser have recently moved to Matamata, we are very much enjoying the town and all it has to offer. The only problem is that both our boys are finding it very difficult to fit in and make friends, we can understand that Fraser is experiencing problems as he has always been somewhat of a social misfit hence his inability to find friends except for his imaginary friend Spanner, however John has always had friends. I bumped into your mother at the supermarket Cameron and she mentioned that you gave generously to charities, now although my son John is not a charity per say I would be very grateful if you could spend time with him, if you could also play him in tennis that would be neat, this would mean that he would do something else apart from spending the wkends in his bedroom building model aeroplanes.
P.S I have enclosed a cheque for $100, this is yours if you let our little battler be victorious in your tennis match.
My husband and I sincerely appreciate your assistance in helping John in his time of need.
Yours faithfully, Allison Diver
JOHN INTRODUCING ME TO VARSITY LIFE
As I am a yr younger than John he was in yr 2 of varsity and so when I showed up for my 1st orientation yr, Robert, Kilp, PJ & myself went down to the varsity pub, we all went in a draw to win $600 cash, I won the money collected it and ventured home, the next day John left a message at the halls of residence for me saying that I had to go down to the pub urgently and take with me some identification proving that I was 20 yrs of age, so I popped on down to the pub absolutely crapping myself, luckily the publican had a sense of humour and generous nature & turned me away no questions asked. During my time flatting with John in the legendary Edinburgh, Street flat he represented ND cricket team;
John is renowned as being a nice guy however he does have a tendency to get angry from time to time; Now I do recall one day that John was angry and it was when there was a photo of him in the Waikato Times taking a catch for the Northern District Cricket team, but the caption below said that it was not John but Scotty Styris, John was gutted by this however I actually thought it was a bit rough on Piggy Styris being mistaken as John to be honest.
JOHN'S 30TH (TINS)
Now I have always admired John for his ability to be able to take a joke, perhaps not the best example of this is when myself, Kilpy and Dan attended John's 30th (quite some ago now) and we decided to remove all the labels from all his tinned food (immature I know, it was Kilpys idea), not sure if John was more gutted with our action, or perhaps the next time he went to get some peaches for his ice cream and got baked beans. Now it is always interesting to know how couples met, on this occasion it was not the internet;
As a number of you well know John and Debbie 1st set eyes on each other at a conference, this encounter helped FUEL their relationship, I recall John calling me to inform me of the news, it was like talking to a little kid the night before Christmas, actually he was just about as excited then as he was last night in anticipation of today. Although at 1st they kept their love affair somewhat of a secret in order to maintain a high level of professionalism within the work environment, example of this was when they were both in Sydney at conference. After Debbie would take Robert out for a "work diner", they would say goodnight and head off to their respective hotels (or so, work colleagues would think). Robert would get a taxi at about 11 o'clock across to the other side of Sydney (taxi fare, $75 of which he claimed as an entertainment expense, which I suppose it was) to see Debbie, and then at 6am get the taxi home, to ensure they woke up alone.
JOHN HAS A FEW VICES, LIKE TO SHED LIGHT ON ONE OF THESE;
John does not mind the odd bet in fact there is only one establishment that is happier to see John Diver than the TAB and that is the casino. He is so keen on his gambling that Fras and I decided to keep John happy at his stag by running a sweep stake to pick the score of the Rugby (AB's Vs Oz), so we all put in $20, John did not win but took all the money and spent it at the casino. The great thing is that John has identified his problem and is getting help, the 1st step was relocating to a city that does not have a casino.
JOHN HAS ALWAYS HAD A LOVE FOR MOWING LAWNS;
At varsity while most of the guys were saving there $'s for their next dozen of beer, John was busy saving his $'s for more petrol to feed his addiction of mowing lawns, considering the level of his passion/addiction, it is a true reflection of his love for Debbie that he is able to reside at a house without a lawn, however I do know that John was excited when he heard that Frank had 5 acres of property, but only to be deflated when he found out that none of it was in lawn.
Thank you (PT & dance instructor)
Now I acknowledge that John will be saying some thank you's in his speech, however I would like to say a few; firstly to Johns PT, (he is devastated that he is unable to make it this evening) with what he had to work with he has done a supreme job. Also a huge thanks to Johns dance instructor, you'll all be able to witness the results this evening. Great girl with a great mate It is always a great relief when a great mate marries a great girl, and today is a sensational example of this, I have admiration for what Debi has achieved within her career but I also give thanks and admire how Debi has transformed John, he used to be a staunch male but this sure has changed, this was proven when John informed me yesterday during a round of golf that he would be more than happy to take Debbies name if she wanted him to.
Be thanks to John for acting in such a way that guarantees him a life long positioning in the  top 10 GGG's (Gary good guy's).
It's been bloody good having John Boffer as a mate over the last 20 yrs, they say that your mates define you and on that I am proud to have you as a mate, and am looking forward to what is going to be a friendship for life, also looking forward to getting to know your children in the near future and grand children a little further down the track.
Like to propose a toast, a toast to Lying, Cheating, Stealing and Drinking.
I Lye, I lye to save a friend
I Cheat, I cheat death
I Steal, I steal the heart from a young girl
I Drink, I drink to you my friends.