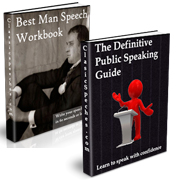 WRITE YOUR OWN UNIQUE BEST MAN SPEECH AND LEARN HOW TO DELIVER IT MASTERFULLY
Do you want to create your own unique best man speech and need some help to pull your ideas together in a logical speech with the polish of a toastmaster? Write a masterful best man speech that will entertain the audience without running the risk of offending anyone in less than 60 minutes.
Leading up to today John and Jane were having an issue with the seating plan. Who would sit comfortably in here & who would have to get up and stand during the speeches so we decided to use wedding present list, biggest presents at front and work it back from there.
So hopefully you can hear me at the back when I say on behalf of Jane and John thank‐you very much for the teaspoons.
Ladies & gentleman, boys & girls my name is Brent and I am John best man today. Let me start by saying it is my privilege and pleasure to respond on behalf of the bridesmaids. I think you'll agree they have done a great job and look fantastic & are only rightly outshone by the bride.
As for your words about me John I did warn you I would have two speeches, one for if you behaved & one for if you didn't. I won't be keeping you too long folks, I'll only be issuing the second of my two speeches. I want to say a little about being best man. I feel the title "best man" says a bit too much.
The way I see it, if I am best man, what the hell is Jane doing with John. So I think I will happy just saying that I'm a pretty good man, and John can be the best man tonight Being the best man has a number of responsibilities that I take very seriously:
Making sure the Grooms face and hair are in impeccable order…(not an easy one making the best out of a bad situation).
Not losing the rings during the ceremony. And learning the Macarena for if they are lost.
Seeing to it that the angry ex‐girlfriends are kept away – thankfully the foot and mouth epidemic saw off most of them
And not revealing any of John dark & deepest secrets…well 3 out 4 isn't bad!
John & I met many years ago through some friends that are here today and i can distinctly remember my first impressions. I thought he was cheeky, hyperactive, challenging and loud. Now that I have known him for all of [number of years you know the Groom] years I now know all of these attributes to be true. But actually, these are the attributes that depict John wonderful character. He is and so much fun to be around.
[Little known story about the groom].
[story of how the groom met the bride]
It is only credit to Jane phenomenal patience, not only for waiting for John to make the first move but also her patience in everyday life that we are all here on this special day. Eventually following some stern talking John and Brent finally got it together and to say this came as a relief to many is an understatement. Not that I am John, suggesting that any of us thought there was a problem. I mean the last person who voiced his concerns ended up in rather a lot of pain. I think I can safely say it is obvious how much in love they are with each other, and I tried to think of an example to illustrate this & of the hundreds of examples one specifically stuck in my mind.
[story of a time the Brides and Grooms love was expressed in public or through an awkward situation]
Finally when I was preparing today's speech I thought I would conclude by summing up John in a few kind words. Struggling for inspiration I turned to some of the stag party to give me the first words that popped into their heads when they thought of John. John, time to get some new friends. However one person came up trumps…and when describing him said he was handsome, funny, thoughtful, loud, caring & best of all ginger. Those words were of course from the now new Mrs Smith…
The most precious possession that a man can have in this world is a woman's heart, and in that, I think you'll agree John has successfully secured the heart of Jane.
Please charge your glasses and toast to the Bride & Groom.